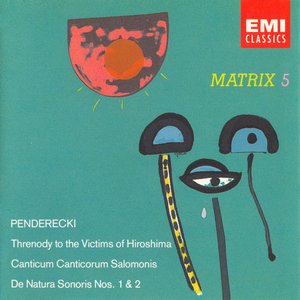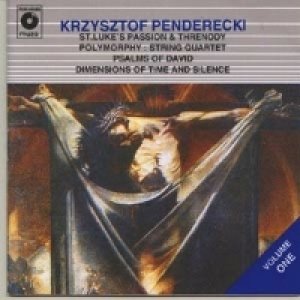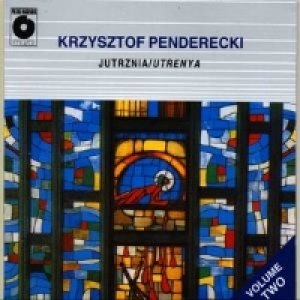 Krzysztof Penderecki
(born November 23, 1933 in
Dębica
)
is a
Polish
composer and conductor. His 1960 avant-garde
Threnody
to the Victims of Hiroshima for string orchestra brought him to international attention, and this success was followed by acclaim for his choral St. Luke Passion. Both these works exhibit novel compositional techniques. Since the 1970s
Penderecki
's style has changed to encompass a post-Romantic idiom.
He has won prestigious awards including Grammy Awards in 1987 and 1998 and 2001, and the Grawemeyer Award for Music Composition in 1992.
As well as the works already mentioned, his compositions include four operas, eight symphonies and other orchestral pieces, a variety of instrumental concertos, choral settings of mainly religious texts, as well as chamber and instrumental Works.
After taking private composition lessons with Franciszek Skolyszewski, Penderecki studied music at Jagiellonian University and the Academy of Music in Kraków under Artur Malawski and Stanislaw Wiechowicz. Having graduated in 1958, he took up a teaching post at the Academy. Penderecki's early works show the influence of Anton Webern and Pierre Boulez (he has also been influenced by Igor Stravinsky). Penderecki's international recognition began in 1959 at the Warsaw Autumn with the premieres of the works Strophen, Psalms of David, and Emanations, but the piece that truly brought him to international attention was Threnody to the Victims of Hiroshima (see threnody and atomic bombing of Hiroshima), written for 52 string instruments. In it, Penderecki makes use of extended instrumental techniques (for example, playing on the "wrong" side of the bridge, bowing on the tailpiece). There are many novel textures in the work, which makes great use of tone clusters. He originally titled the work 8' 37", but decided to dedicate it to the victims of Hiroshima.
Fluorescences followed a year later; it increases the orchestral density with more wind and brass, and an enormous percussion section of 32 instruments for six players including a Mexican güiro, typewriters, gongs and other unusual instruments. The piece was composed for the Donaueschingen Festival of contemporary music of 1962, and its performance was regarded as provocative and controversial. Penderecki's intentions at this stage were quite Cagean: 'All I'm interested in is liberating sound beyond all tradition'. This preoccupation with sound culminated in De Natura Sonoris I, which frequently calls upon the orchestra to use non-standard playing techniques to produce original sounds and colours. A sequel, De Natura Sonoris II, was composed in 1971: with its more limited orchestra, it incorporates more elements of post-Romanticism than its predecessor. This foreshadowed Penderecki's renunciation of the avant-garde in the mid-1970s, although both pieces feature dramatic glissandos, dense clusters, and a use of harmonics, and unusual instruments (the musical saw features in the second piece).
Around the mid-1970s, while he was a professor at the Yale School of Music Penderecki's style began to change. The Violin Concerto No. 1 largely leaves behind the dense tone clusters with which he had been associated, and instead focuses on two melodic intervals: the semitone and the tritone. Some commentators compared this new direction to Anton Bruckner. This direction continued with the Symphony No. 2, Christmas (1980), which is harmonically and melodically quite straightforward. It makes frequent use of the tune of the Christmas carol Silent Night.
Penderecki explained this shift by stating that he had come to feel that the experimentation of the avant-garde had gone too far from the expressive, non-formal qualities of Western music: 'The avant-garde gave one an illusion of universalism. The musical world of Stockhausen, Nono, Boulez and Cage was for us, the young - hemmed in by the aesthetics of socialist realism, then the official canon in our country - a liberation…I was quick to realise however, that this novelty, this experimentation and formal speculation, is more destructive than constructive; I realised the Utopian quality of its Promethean tone'. Penderecki concluded that he was 'saved from the avant-garde snare of formalism by a return to tradition'.
In 1980, Penderecki was commissioned by Solidarity to compose a piece to accompany the unveiling of a statue at the Gdańsk shipyards to commemorate those killed in anti-government riots there in 1970. Penderecki responded with Lacrimosa, which he later expanded into one of the best known works of his later period, the Polish Requiem (1980–84, 1993, 2005). Again the harmonies are rich, although there are moments which recall his work in the 1960s. In recent years, he has tended towards more traditionally conceived tonal constructs, as heard in works like the Cello Concerto No. 2 and the Credo. He conducted Credo on the occasion of the 70th birthday of Helmuth Rilling, 29 May 2003. In celebration of his 75th birthday he conducted three of his works at the Rheingau Musik Festival in 2008, among them Ciaccona from the Polish Requiem.
In 2001, Penderecki's Credo received the Grammy Award for best choral performance for the world-premiere recording made by the Oregon Bach Festival, which commissioned the piece. The same year, Penderecki was awarded with the Prince of Asturias Prize in Spain, one of the highest honours given in Spain to individuals, entities, organizations or others from around the world who make notable achievements in the sciences, arts, humanities, or public affairs. Invited by Walter Fink, he was the eleventh composer featured in the annual Komponistenporträt of the Rheingau Musik Festival in 2001. Penderecki received an honorary doctorate from the Seoul National University, Korea in 2005, as well as from the University of Münster, Germany in 2006. His notable students include Chester Biscardi and Walter Mays.
Penderecki has three children, a daughter from his first marriage, and a son and daughter with his current wife, Ezbieta Solecka, whom he married in 1965.
Some of Penderecki's music has been adapted for film soundtracks. The Shining (1980) features six pieces of Penderecki's music: Utrenja II: Ewangelia, Utrenja II: Kanon Paschy, The Awakening of Jacob, De Natura Sonoris No. 1, De Natura Sonoris No. 2 and Polymorphia. The Exorcist (1973) features Polymorphia as well as his String Quartet and Kanon For Orchestra and Tape; fragments of the Cello Concerto and The Devils of Loudun are also used in the film. Writing about The Exorcist, the film critic for The New Republic wrote "even the music is faultless, most of it by Krzysztof Penderecki, who at last is where he belongs."David Lynch has used Penderecki's music in the soundtracks of the movies Wild at Heart (1990) and Inland Empire (2006). Penderecki's piece, Threnody for the Victims of Hiroshima, was also used during one of the final sequences in the film Children of Men. Penderecki composed music for Andrzej Wajda's 2007 film Katyń, while Martin Scorsese's Shutter Island featured his Symphony No. 3 and Fluorescences.
One of the best known, most listened to, and most popular composers of the late twentieth and early twenty-first centuries, Krzysztof Penderecki has undergone a marked evolution in compositional style. After achieving fame with such astringent, often anguished, scores as his Threnody for the Victims of Hiroshima (1960) and Passion According to St. Luke (1965), both of which stretched traditional harmonic language and orchestral techniques, beginning in the mid-1970s, Penderecki followed a personal imperative in moving toward more conventional tonal music. His Symphony No. 2 embraced pre-serialist notions of melody and harmony. His fertile exploration of a more traditional language, described by some as Neo-Romanticism, has continued to characterize his works since that time.
Penderecki was given violin and piano lessons as a child. He studied art and literary history and philosophy at the local university while also attending the Kraków Conservatory. He privately studied composition before he entered the Kraków State Academy of Music in 1954. In 1959, three of his compositions, each submitted under pseudonyms, won first prizes in a competition sponsored by the Polish Composer's Union. Fame rapidly followed. Both his Threnody and St. Luke Passion received worldwide performances in numbers rare for contemporary works, especially those written with such demanding techniques: glissandi, tonal clusters, unpitched sounds, spoken interjections, aleatoric effects, and shouting. Commissions came in quick succession, a corollary career as a lecturer developed, and in 1972, Penderecki began to conduct his own works. The first of Penderecki's stage works, The Devils of Loudon, became a European sensation in 1969, receiving numerous performances and generating considerable controversy. A second opera, one of epic scale, was commissioned by the Chicago Lyric Opera. Paradise Lost (after Milton) was mounted in 1976 in an immensely expensive production seen in Chicago and Italy. Die schwarze Maske was premiered in 1986, followed in 1991 by the comic work Ubu Rex.
Penderecki has received numerous international honors and awards. He holds honorary professorships in many of the world's most prestigious conservatories and schools of music, as well as several honorary doctorates, and he has been recognized with national orders from such nations as Germany, Austria, and his native Poland. He won the prestigious Grawemeyer Award for his Adagio for Large Orchestra in 1992. He won Grammy Awards for his Cello Concerto No. 2 (1987), his Violin Concerto No. 2: Metamorphosen (1998) and his Credo, for chorus (2001)
Since his conducting debut, he has been a respected podium figure, leading both his own works and a variety of music by other composers. The North German Radio Symphony Orchestra, Hamburg engaged him as principal guest conductor. Though not extraordinarily prolific, Penderecki has amassed a sizeable catalog of orchestral works, chamber music, concertos, and choral works. He wrote eight symphonies between 1973 and 2008 and has devoted increasing attention to choral settings of
religious texts.
Biography by Erik Eriksson - Source:

allmusic
Watch and listen the
vídeos:
P

aradise

lost

Atto I

,

Complete Cello Concertos

,

Threnody for the Victims

of Hiroshima

,

Polymorphia

,

Symphony Nº 7 'Seven

Gates of

Jerusalem'

,

Die Teufel von Loudun Atto I

,

Song of Cherubim

,

Saint Luke Passion

,

Concert

per

Violino e orchestra

,

The
Awakening of Jacob

,

Viola

concerto

,

Kosmogonia

,

Polskie Requiem

,

Concerto

per

pianoforte

e

orchestra

,
Pasja wg. Sw Lukasza

,

Popular videos

(200 videos),

The Emtombment of

Christ

,

Lacrimosa

,

De Natura Sonoris

,

Of Darkness

,

Agnus Dei

,

De Natura Sonoris Nº 2

,

Credo In Unum

Deum

,

Cadenza for solo violin

,

Benedicamus Domino

, Symphony Nº 3 (III. Adagio),

Anaklassis

,

Anaklasis Matrix 5

,

Concerto Grosso

,

Leaves from an Unwritten

Diary part 1

,

Fonogrammi Matrix 5

,

Capriccio

per

violino e orchestra

,

Quartet for Clarinet and Strings

,

Horn Concerto

and

YouTube Mix

.