Tunng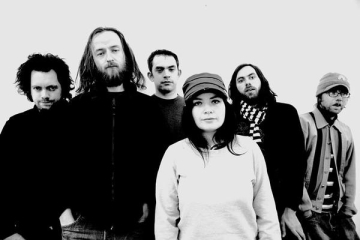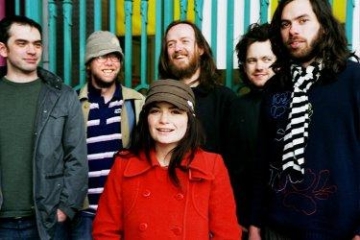 Since their 2005 debut album, 'Mother's Daughter & Other Songs',

Tunng

have been praised for their innovative blend of folk and electronica. Last year's 'Comments of The Inner Chorus' extended the playful take on tradition evident on 'Death and the Maiden' here.
Artist Biography by

Marisa Brown
Though the core members of

Tunng

, Sam Genders and Mike Lindsay, began their musical partnership composing scores for softcore porn, they soon decided to form a band that would bring together Genders' gentle vocals withLindsay's guitar playing and songwriting. To fill out their sound, the duo added more guitars as well as female vocals, turntables, programming, and other percussion. Often labeled as either "future folk" or "

folktronica

" by critics who had a hard time placing the band's sound, Tunng released a handful of singles in their native Britain before their full-length debut, This Is...Tunng: Mother's Daughter and Other Songs, came out in 2005 (the album was later re-released in the U.S. the following year on Ace Fu). In 2006 their follow-up,Comments of the Inner Chorus, hit shelves. By this time more of a collective than anything else, especially because initially Genders had opted out of performing live, the six-piece (Genders andLindsay plus vocalists Becky Jacobs and Ashley Bates and multi-instrumentalists Martin Smith and Phil Winter) released Good Arrows the next year. Time off and touring meant four years would pass before the group returned with 2010's And Then We Saw Land, their first album without co-founder Sam Genders. With geographical differences and family life taking precedence the band would reconvene in lead songwriter Mike Lindsay's newly adopted home of Reykjavik, Iceland to start work on their follow-up. Taking the jam sessions from Iceland to Dorset, U.K., and spending two weeks recording, Tunng released their fifth album, Turbines, in mid-2013. Source:

allmusic
Watch and listen the videos:
People Folk

,

Hustle

,

Cans

,
Beautiful and Light
,
So Far From Here
,
The Pioneers
,
Bullets
,
Jenny Again
,
Fair Doreen
,
Take
,
So Far from
Hear
(live),
The Village
,
live at Amoeba
,
Bricks
,
Arms
,
Sweet William
,
Water,wash me
,
Top Tracks
(25 videos).